Easter Sunday 2007 was an historic day in the centre of York.
The churches of York had completed 40 days of prayer and many came together for a celebration in the city centre. At the same time the 'red carpet treatment' was given to the general public. We invited people to walk on strips of red carpet and gave them a card explaining the simple truth of the gospel that God thought they were so special that Jesus made a way for them to walk to Him through His blood.
From 12.30pm there was music and singing in St Sampson's Square with the band from York City Church. There was face painting going on and an information desk. The stage had a huge banner behind it carrying the One Voice logo and web address. The PA was particularly good and everyone in the area could hear what was going on.
Word had got around that Baptisms were going to be conducted, as people had travelled from towns all over Yorkshire, even from surrounding counties and at least one family came up for the day from London!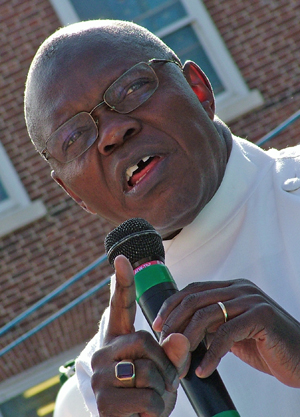 Archbishop John Sentamu agreed to baptise candidates from all the churches along with their own leader. This was to be the first time in known history that the primate of England was to conduct baptisms with leaders of other churches.
After an introduction and explanation from David Casswell, Joint Chair of One Voice, we all shouted together "He is Risen". Graham Hutchinson, Joint Chair of One Voice, briefly interviewed all 20 candidates and they made a public confession of their faith.
Archbishop Sentamu preached about what Easter really means. He made people laugh and he made people think. He then encouraged all the crowd to join in a declaration of turning to Christ.
Stephen Redman then prayed over the water and led a confession of faith from the candidates.